According to a recent 2016 consumer research study conducted by the Prime Buyer's Report, Paul's Building Maintenance was ranked as a one of the "Top 10 Janitorial Services and Office Cleaning" companies in Philadelphia, PA.  Businesses in the Prime Buyer's Report — TOP 10® are those that have passed the Prime Buyer's Report's top 10 criteria for evaluating quality, client satisfaction, and trustworthiness of a local business. Having scored highly in all the evaluation requirements, Paul's Building Maintenance ranked as one of the best commercial cleaning companies in Philadelphia, PA among its industry peers.  Learn more.
Because first impressions matter
A clean and healthy workplace matters.  And meticulous attention to every detail makes all the difference.  With Paul's Building Maintenance, our clients get the friendly, affordable, and quality service they deserve – guaranteed.  Our goals aren't met until you're completely satisfied, and PBM will always go the extra mile to ensure that every job is done exactly the way you like it.
Peace of mind you deserve
Facility managers need instant results and the peace of mind that comes with it.  What would you do if you had an unexpected emergency?  Say, your water lines break?  Your floors need repair?  Or a weekend event or building renovations leave a big mess behind?  These are questions that so many of our clients have answered since partnering with Paul's Building Maintenance.  We go beyond scheduled office cleanings and janitorial services.  There are times you'll need an extra hand at a moment's notice, and our dedicated team will be at your service 24/7.
Commitment to provide the best customer service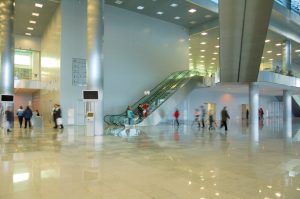 Our commitment to superior quality and reliable customer service is the reason why our clients continue to partner with us, year after year.  Paul's Building Maintenance prides itself on delivering total client satisfaction, and our goal is to provide clients with the confidence that their facilities always look and operate at their best.  Call us and see how PBM can support your office cleaning and building maintenance needs.
Enjoy cost savings
Save on your monthly cleaning service.  Paul's Building Maintenance is a locally owned small business – there are no corporate franchise fees or excessive overhead costs, and we pass the savings directly to our clients.